Record temperature profiles over long distances
In distributed measuring systems, no sensors need to be introduced into the fiber. Rather, backscattered light is evaluated by the fiber material itself to obtain the desired temperature information. These systems are based on the evaluation of the Rayleigh scattering and enable the acquisition of temperature profiles along the glass fiber with resolutions in the millimeter range and up to 100 m long measuring sections. Thus, virtually every point of the glass fiber becomes the sensor. Conventional methods required hundreds or thousands of conventional point sensors with associated cables and immense installation effort.

For temperature measurement, the sensor fibers are usually performed in a capillary or a protective tube. Depending on the used interrogator (readout system) and the application, these can be inexpensive conventional standard glass fibers or can also be manufactured by Polytec according to your individual requirements.
low-cost single-channel entry-level system
for temperature and strain measurement
fiber lengths up to 300 m, max. 200 m supply line and 100 m sensor length (guided in capillaries/thermowell)
standard temperature range -40 to +300 ° C
extended temperature range with special cryogenic fiber up to +650 ° C
temperature resolution max. +/- 0.1 ° C
minimum sensor distance 5.2 mm
Measurement speed up to 30 Hz
industrial-grade interrrogator in 19-inch rack
high reliability and traceability
typical areas of application: model and simulation validation, temperature and load monitoring systems for the development of composite materials, fatigue tests and mechanical material structure monitoring
for temperature and strain measurement
Fiber lengths up to 300 m, max 200 m supply line and 100 m sensor length (guided in capillaries/protective tube)
maximum 8 channels (total of hundreds of thousands of measuring points)
Standard temperature range -40 to +300 ° C
Extended temperature range with special fiber cryogenic to + 650 ° C
Temperature resolution max. +/- 0.1 ° C
minimum sensor distance 0.65 mm
measuring speed up to 250 Hz
industrial-grade interrrogator in 19-inch rack
high reliability and traceability
typical applications: Model and simulation validation, Temperature and load monitoring systems on the development of composite materials, fatigue tests and mechanical material structure monitoring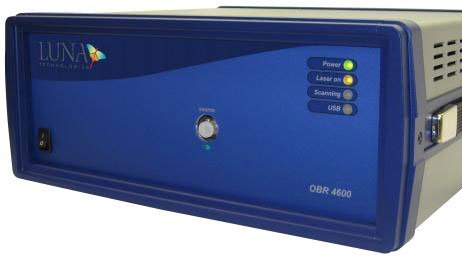 Optical reflectance reflectometer
Fiber lengths up to 2 km
Thousands of sensors along one fiber
Standard temperature range -50 to +300 ° C
Extended temperature range with special fiber cryogenic up to +800 ° C
Temperature resolution max. +/- 0.1 ° C
Measuring speed up to 3 Hz
Use of standard glass fibers
Freely configurable sensor positions and lengths
Recommended spatial resolution +/- 1 cm (min. 10 μm)