Measure elongation and deformation visually without contact
Camera-based stereoscopic 3D shape, stress and deformation measurement

DIC systems (digital image correlation) can be used very flexibly regardless of the shape, temperature and size of the measuring object and can measure strains in the microstrain range (sub-micrometers) using microscope optics, as well as strain factors of several 100%, or even extreme measurement rates with high-speed cameras. Using the method of digital image correlation (grey value correlation, near-field photogrammetry), they can be used for both 2D and 3D applications. Typical applications from industry and research are motion and deformation analysis, material characterization, component testing and photogrammetric measurements. Measurements include tensile, compressive and bending tests, impact and pressure wave analyses, crack detection, fluid-structure interaction, fatigue analysis and under-surface defect detection.

Polytec offers two 3D DIC systems that complement each other perfectly:
The StrainMaster Portable System, consisting of individual components, can be optimally configured for any application and offers maximum flexibility.
The StrainMaster Compact System impresses with its compact, integrated design with minimal setup time and easy operation at a particularly low price.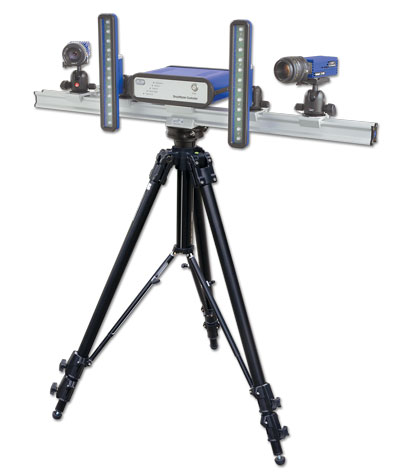 The modular StrainMaster Portable system consists of controller, software, camera (s), lighting and mechanics. All measurement process steps, from hardware control to data processing, validation, display and data export, are integrated into the system. The collected raw data is retained and can be re-processed at any time. Important parameters such as resolution, field-of-view, stretch range and working distance are extremely variable and depend on the lighting, cameras and optics used.
Form, stress and deformation analysis of solid and granular samples
2D or 3D applications
Modular expandable system design
Robust, lightweight and mobile
Software controls all process steps from recording to data export
Analysis can be adjusted or changed at any time, raw data is retained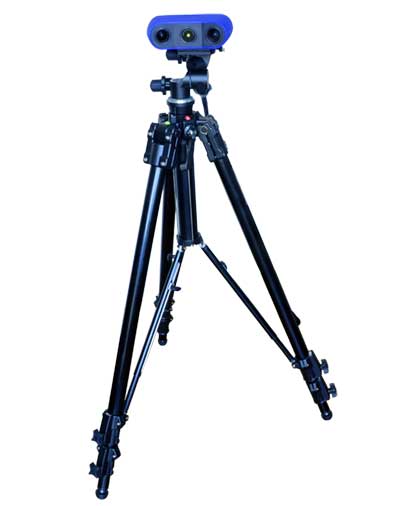 The measuring head of the digital 3D image correlation system consists of two permanently integrated USB3 cameras and a bright LED light source in a compact housing. The advantage of the system lies in its integrated design, its easy and quickly manageable operability and its entry-level price.
The system allows fields of view of 180 x 280 mm2 at a working distance of 250 mm. Measuring rates of up to 150 Hz are possible. In order to avoid reflections on reflecting measuring objects, linear polarization filters are included in the scope of delivery. Four device variants with different resolutions and fields of view allow optimization in advance with regard to the application. A complete system consists of a measuring head, controller with display, mouse and keyboard as well as the StrainMaster Compact software.
Form, stress and deformation analysis of solid and granular samples
2D or 3D applications
Robust, lightweight and mobile
Software controls all process steps from recording to data export
Analysis can be adjusted or changed at any time, raw data is retained
| | | | | |
| --- | --- | --- | --- | --- |
| Typ | Camera resolution | Objective | Field of vision | Effective premises. Ed. |
| SMC 2M-280 | 1936 x 1216 | 2 x 12 mm, F/2.0 | 180 x 280 mm² | 142 μm/px |
| SMC 2M-200 | 1936 x 1216 | 2 x 16 mm, F/2.0 | 130 x 205 mm² | 92 μm/px |
| SMC 5M-180 | 2464 x 2056 | 2 x 12 mm, F/2.0 | 150 x 180 mm² | 74 μm/px |
| SMC 5M-140 | 2464 x 2056 | 2 x 16 mm, F/2.0 | 120 x 140 mm² | 52 μm/px |