RSV-150 超远工作距离激光测振仪,即使在几百米之外,亦能快速轻松地测量结构和机器上的振动和位移。您只需对准、定位和测量!RSV-150结构坚固,专为户外移动使用设计,用于结构和系统的状态监测和动力学检验。其先进的激光干涉技术为用户节省大量时间,用户不再需要经历在被测对象上安装传感器的耗时且危险的过程!RSV-150的操作如此简单(您只需定位和测量),即使需要快速诊断,RSV-150 也能始终准备就绪。
近扫镜头的使用,意味着具有更好的光学灵敏度和信噪比的激光照射到被测表面,即使在实验室里。另一种近距离测量的控制器,可用来测量高达 24 m/s 和 MHz 频率的振动,即使是困难表面也能保证最佳的信号质量。
Works on nearly all surfaces – even on corroded and dirty ones
Remote access to distant hazardous areas
True zero Hz performance – precisely determine natural frequencies for health monitoring and model validation
Small laser spot size for highest spatial resolution
Easy set-up in minutes – no sample cabling or surface preparation
Patented integrated optical channel for precise targeting
RSV-150 Remote Sensing Vibrometer for vibration analysis at large distances
Condition monitoring in the field at heavy machinery like in mining
Monitoring structural dynamics on power poles from a safe distance
Easy and precise targeting of the small laser spot using the video image
Condition monitoring and analysis of structural integrity of bridges and constructions
RSV-150 Remote Sensing Vibrometer for vibration analysis at large distances
Condition monitoring in the field at heavy machinery like in mining
Monitoring structural dynamics on power poles from a safe distance
Easy and precise targeting of the small laser spot using the video image
Condition monitoring and analysis of structural integrity of bridges and constructions
Point, shoot and measure
Simply mount the sensor head on the rigid tripod, use the geared head and fine adjustment to precisely position the visible laser probe on the exact feature of the object being examined and start your measurement. The long cable between the compact controller and the sensor head permits flexible positioning. With the optional VibSoft data acquisition software, you can immediately evaluate your test data anywhere - in the field or on-site.
The RSV-150 system is designed for high-sensitivity, remote condition monitoring. An innovative laser probe allows the acquisition of vibrational velocity and displacement with micrometer precision at substantial stand-off distances. Thus, structures such as transmission towers, buildings and bridges, industrial facilities, and heavy machinery can be safely and accurately monitored from far away. This remote but precise capability allows for difficult measurements not previously possible, or just too time consuming or dangerous with conventional sensors.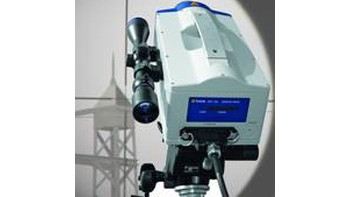 Scope with zoom optics for Polytec RSV Remote Sensing Vibrometer
A-VIS-SCOP1 Scope
Scope with zoom optics. Allows an easier selection of target on uniform structures like stay-cables.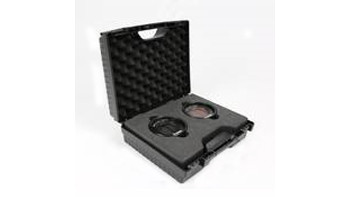 Close-up lenses for RSV Remote Sensing Vibrometer
RSV-A-xxx Close-up Lenses
For use of the RSV-150 at working distances below 5 m as in lab environment.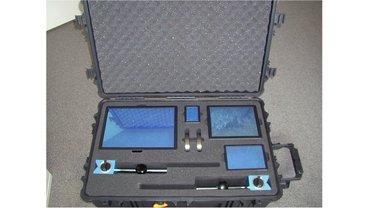 Vibrometer accessory - set of mirrors for customized vibrometer test setups
A-MIR-xxxx Mirror Sets
Polytec's mirror sets contain different sizes of mirrors to assist in the set-up of your measurement.
Tripods, test stands, positioning stages
Icon accessory
VIB-A-T07 Tripod with Geared Head
Rigid tripod with 3-way geared head.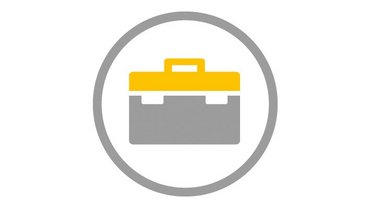 Icon accessory
RSV-A-P05 Pan/Tilt Fine Adjustment
Fine Adjustment adapter for sensor head for easy and precise targeting over long distances.
Software, data acquistion
USB video converter for RSV Remote Sensing Vibrometer
VibSoft-20 Data Acquisition and Analysis Software
Easy-to-use vibration analysis software with 2-channel USB data acquisition up to 20 kHz.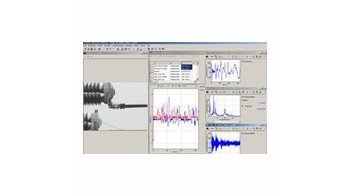 VibSoft-20 data acquisition and analysis software for RSV Remote Sensing Vibrometer
A-CON-VIDEO USB Video Converter
Converts the sensor head camera's video signal to USB for use in the VibSoft Data Acquisition package. Required for Computers w/o video input only.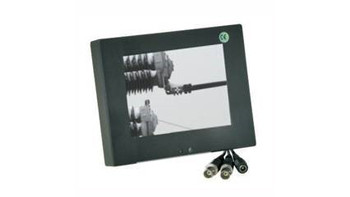 TFT monitor with tripod mount for easy targeting for Polytec RSV Remote Sensing Vibrometer
A-MON-TFT3 Monitor
12.7 cm (5") TFT monitor with tripod mount for comfortable and easy targeting.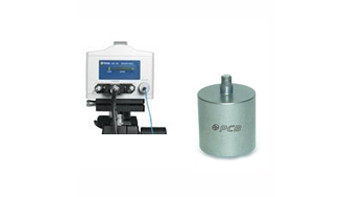 Seismic reference sensor for Polytec RSV Remote Sensing Vibrometer
A-VIB-ACC1 Seismic Reference Sensor
For measurement and compensation of ambient vibration.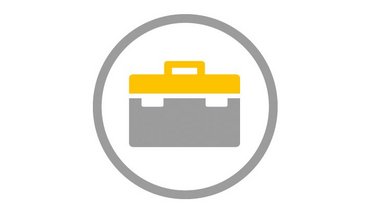 Icon accessory
A-RET-xxxx Retro-Reflective Supplies
Selection of sprays, tape, sheets and micro glass beads for improvement of signal to noise ratio when measuring uncooperative surfaces.