Automation of non-destructive materials testing
A number of methods are used to detect defective material quickly and reliably, ultrasound or x-ray, for example. On the one hand the aims are preventing defective products from being put on the market, and on the other hand guaranteeing the functionality of the products in use.
If a defect is detected, it is mandatory to identify the position of the defect on the examined object. You can ascertain this by measuring the velocity and length using a laser surface velocimeter (LSV). This in turn enables the automation of non-destructive materials testing, saving you time and money.
LSVs from Polytec are ideally suited because they can conduct measurements on almost any surface and they are not susceptible to contaminated surfaces. The non-contact measurement technique makes it possible to eliminate any negative influences on accuracy, such as slippage and wear, simultaneously. The product being subjected to the measurement also remains intact.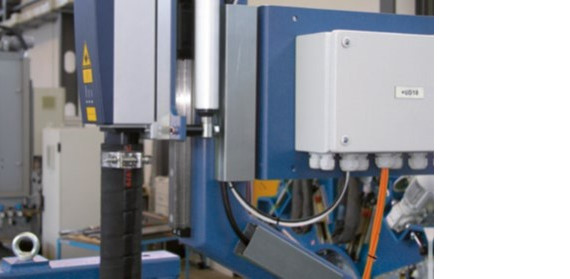 Non-destructive testing of steel tubes
Non-destructive testing of steel tubes
See the process-integrated LSV laser sensor in the illustration of a test system. The sensor provides a millimeter clock to determine the length of test pieces and to log the flaw location, which is then color-marked. LSV sensors can also register even the slightest speed variations in the test pieces.
Optical length and speed measurement in steel, aluminum and metals production