Analyzing ingredients and optimizing processes
Process analytics is used to optimize the production process, to ensure consistent product quality and, last but not least, to meet environmental requirements. The objective in this regard is to improve product quality and enhance efficiency with a view to reducing costs, saving time and cutting emissions. Automated real-time control allows for controlled interventions to be made even during the product manufacturing process. Costly and time-consuming faulty production operations are prevented as a result.
Process analytics can be used throughout the entire production chain: when inspecting incoming goods, during production (either online in the form of automatic sampling while bypassing process control, or inline in the form of automatic sampling directly during process control) and during final product control.
As they are easy to use and robust, spectroscopic methods – particularly near-infrared (NIR) spectroscopy based on dispersive diode array technology – are a popular choice in this area of application.
The available measured variables are diverse in this regard:
Qualitative and quantitative compositional analyses to determine the concentration of products, additives and by-products, and to identify process-specific substances
Physical parameters in both the reactor and the reaction mixture, such as the humidity level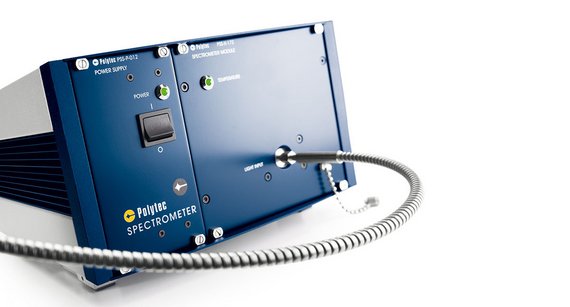 NIR spectrometers
Polytec PAS spectrometers provide an ideal solution to your NIR process analytics problem. Based on a transmission grating design with diode array detectors, the devices ensure fast and precise data acquisition. Flexible combinations with fiber-coupled components allow for integration in various measurement scenarios according to the user's requirements. Highly standardized components mean that no compromises have to be made with regard to precision and user friendliness.

Learn more
NIR spectrometers for industrial process control