With our PolyXpert engineering services or system rentals, Polytec makes high-precision vibration analysis available to anyone. Benefit and use ultra-modern measuring technology straight away before investing in your own equipment. We support our customers in dedicated training sessions and with specific application support services.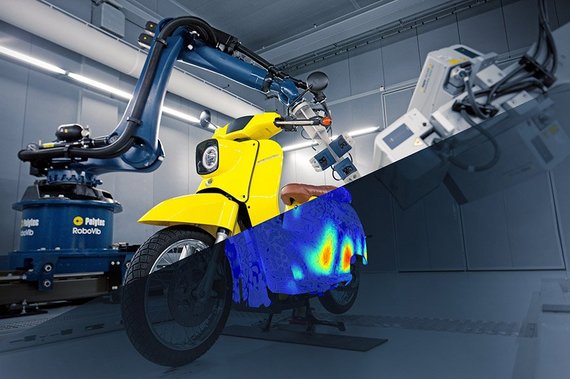 Vibration measurement as a service: here, a deflection shape analysis on an e-scooter
Measurement service and rentals
Our engineering services cover a wide range of applications, either onsite or in our laboratories - also remotely as online session! Ask for our PolyXperts, rent cutting edge laser measurement equipment and benefit from individual support for your projects. Our experienced application engineers are pleased to help, measure and test for you. For comprehensive studies, rent the RoboVib® structural test station.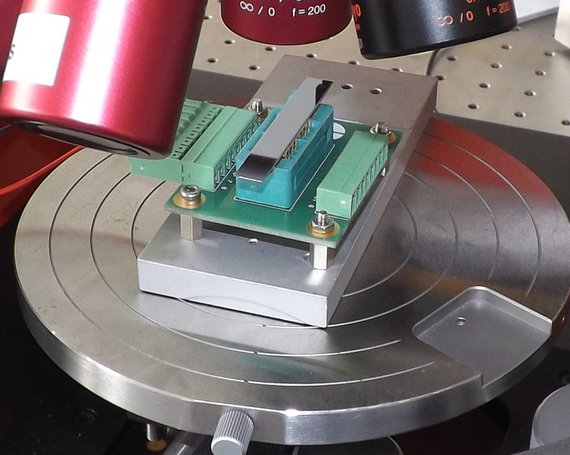 MSA-650 IRIS patented measrurement technology for analysis on Si capped MEMS
Optical testing of capped MEMS as service
This brand new, patented measurement technology allows for comprehensive and representative analysis of Si encapsulated MEMS, measuring dynamics right through silicone caps. Our PolyXperts are looking forward to receiving your capped MEMS samples for modal testing, feasibility studies and consulting throughout all phases from development over prototyping to manufacturing of your encapsulated microstructures.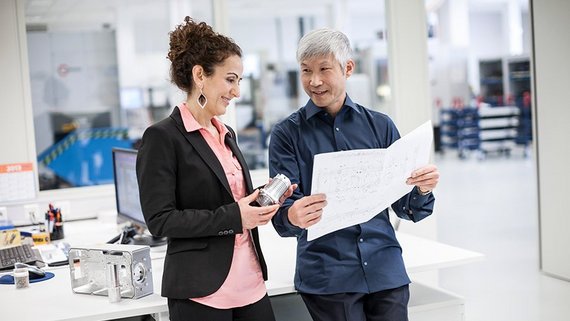 We are offering all users - from beginners to specialists - to refresh their knowledge and exchange ideas with our PolyXperts during trainings, seminars and user conferences.
Optical measurement systems keep their value even after many years of use. Modularly structured service will help you to maintain the equipment to be ready for use with its latest technical revision at any time. Therefore please make sure that your Polytec Systems are serviced at your closest Polytec Support Center. This will ensure the correct operation of the equipment even after many years in use and just as effectively as at the very beginning.
Depending on your preference, the dimensions and weight of your measurement system, we can perform the service for most systems either onsite at your location or at one of our service centers. In the latter case we can even offer to arrange packing and transportation for you.
You will find support centers in Germany, USA, Singapore, Japan and China. As an ISO 9001 certified partner, we will provide all necessary service for you. The basic modules of our service are calibration, preventive maintenance, repair and software updates.
Calibration
Calibration ensures validity of the measurement results and certifies the Polytec measuring instruments to close the loop with your ISO Standard and QM regulations. The controllers are calibrated by matching various sensitive signal ratios. Alignment and calibration will be carried out with certified calibration tools which also follow regular traceable calibration procedures in accordance with ISO standards.
Preventive maintenance
Highly sophisticated optical measurement equipment needs limited, but very precise care, in order to maintain the original equipment specifications and precision. It includes cleaning, realigning of the optics if needed, and if further needed, replacement of worn parts as well as maintenance of the mechanical units and functional tests.
Therefore please have your instruments maintained at your closest Technical Service Center or at your location. If you wish, worn parts, like laser tubes can be replaced with a frequency matched to your usage in order to avoid unexpected downtime at the moment when you least need it.
Repair
In case a component of your Polytec System unexpectedly becomes defective we can provide fast and reliable repair with original spare parts, including maintenance of the entire system so that everything works flawlessly again. Standard spare parts we provide from stock. To keep your system up to the latest revisions, we supply parts with the latest improvements and firmware revisions included.