Elongation process control with laser precision
For processing steps which involve elongating (extending) products, it is important to measure and monitor the degree of elongation – since this has a substantial influence on product quality and further processing. If the degree of elongation is too low, requirements for subsequent processing steps may not be met. If, on the other hand, the degree of elongationis too high, this can have a negative impact on product characteristics or, in the worst case, the product may be damaged. In order to determine the elongation, the velocity is measured both before and after the processing step and the degree of elongation is calculated based on the results of the velocity measurements.
Laser surface velocimeters (LSVs) from Polytec are ideally suited because they can conduct measurements on almost any surface and they are not susceptible to contaminated surfaces. The non-contact measuring technique makes it possible to eliminate any negative influences on accuracy, such as slippage and wear, simultaneously. The product being subjected to the measurement remains intact too. The increased accuracy of the velocity measurement allows you to monitor velocity difference and elongation more closely. As a result you are better able to adhere to the end product requirements. The result: You increase quality while at the same time reducing waste.

Line-integrated laser sensor for elongation process control
Skin-pass and stretch degree measurement
Polytec LSVs are used in the metal industry for measuring the skin-pass degree in skin-pass or stretching mills. The skin-pass degree in cold strip skin-pass rolling is determined by the difference in strip velocity at the input and output of the roll stand, which in the past has been measured mechanically using tachometer generators. Using two Polytec LSVs prevents the occurrence of measuring errors owing to slippage and wear and the skin-pass degree measured may be used as a control parameter for adjusting the rolls. Using an LSV a major German stainless steel manufacturer confirmed an uncertainty of just ± 0.02% of his skin-pass degree measurement.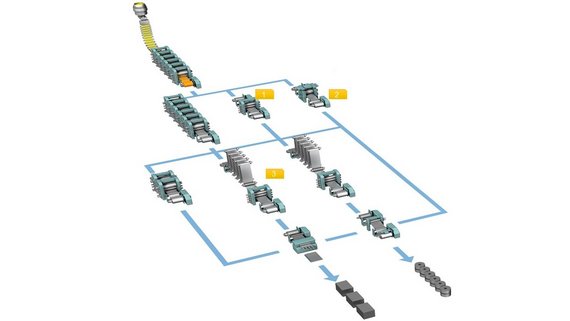 Typical applications for laser measurement in elongation processes
Speed synchronization in aluminum production
In the largest aluminum smelting and rolling plant in the world, the length and velocity of aluminum sheets in the manufacturing process are measured simultaneously using non-contact laser Doppler measurement technology from Polytec. Several Polytec LSVs are integrated in the manufacturing process and provide readings for plant control.
Typical applications for LSV Laser Surface Velocimeters in elongation processes:
Entry and exit speed measurement for mass flow and elongation control in a reversing cold rolling mill
Entry and exit speed measurement for mass flow and elongation control in 20 high roll mill stand
Entry and exit speed measurement for elongation control in a temper / skin pass mill
Optical length and speed measurement in steel, aluminum and metals production