Making NIR sources visible for easier handling
The Polytec NIR display devices offer you a sharp, high-resolution and high-contrast display across the entire field-of-view.
The high-resolution NIR lens provided has a variable aperture for optimum light adaptation and can already be sharply focused from a distance of 10 cm away from the object to infinity. You can increase the contrast further using a filter thread. Numerous edge and interference filters are available for you to choose from for this purpose.
With the integrated C-mount lens thread, you are making an extremely flexible choice of lens. Focal length ranges of 8 to 135 mm are thus available to you, including a zoom lens.
The 7215D model series has an ergonomic handle and a tripod socket so that you have your hands free during adjustment work.
The NIR display devices come in two basic versions. The standard version is advisable for inserts up to a wavelength of roughly 1,320 nm, while the P version with specially selected tubes is recommended up to 1,550 nm.
You can also connect Si-CCD cameras to use the display devices for high image quality even in the NIR range.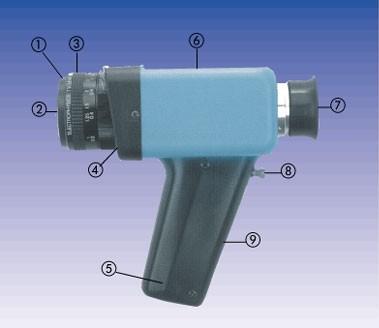 Features
Versions up to 1,320 nm or 1,550 nm
Sharp overall image using the bundle of fibers on a curved tubular surface
Bright, high-contrast image
High resolution with more than 60 line pairs / mm
25 mm standard lens for lens distances from approx. 10 cm to infinity with an adjustable aperture and integrated filter holder
C-mount lens thread for free choice of lens
Sturdy, shock-resistant design
CCD camera connection capability on the eyepiece side (option)
Tripod socket
Battery operation (operating time: approx. 100 h)
(1) Filter thread
(2) Standard lens: 25 mm, f/1.6, 40°, FOV, 10 cm - ∞
(3) Adjustable aperture
(4) C-mount lens thread
(5) Tripod socket
6) Shock-protected housing
(7) Adjustable eyepiece
(8) ON / OFF pushbutton switch (optional: toggle switch)
(9) 9V battery in the handle
Lenses with focal lengths of 8 – 135 mm
Numerous filters: Narrow band, long pass, short pass and ND filters